PHILOSOPHY
"Aiko" is the name of the hat-cap for females.
Aiko is a new concept for hat design – the hat, which can also be used as a cap. It emphasizes the individuality of the user, as through its simple shape it accentuates the female head and gives the face a frame.
"Aiko" is being produced from straight-combed and longhair-felt in the traditional way of hat manufacturing. Each felt hat-cap is an unique handmade specimen.
The elegant hat-cap is available in different colours and sizes in Vienna, Munich, Stuttgart, Zürich, and Toronto.
In September 2005 Eva Kim Heu was invited to be designer of the month at the "MusemsQuartier-Shop", MuseumsQuartier Vienna.
In March 2006 Eva Kim Heu was honored with the BLICKFANG design price 2006.
The statement of the jury:
"Simplest means produce formal simplicity .
The material felt underlines the rigid and elegant form language.
These hats become ark types, whose impression is varied subtle
by a multitude of surfaces and colors."
In November 2006 Eva Kim Heu will present her new hat-collection at Blickfang in Tokyo.
This design trade fair "Blickfang" will take place parallel to the established
professional trade shows such as Tokyo Design Week, 100% Design and Design Tide.
Blickfang will be integrated in this years Design Tide program.
The designer Eva Kim Heu graduated in Industrial Design at the University of Applied Science
"FH (Fachhochschule) Technikum Joanneum" in Graz – Austria. With her first product, the hat-cap "Aiko", she tries to build a link between design, art and fashion. Through the formal aesthetic originality of the hat-cap Eva Him Heu creates a design object of sculptural character. At the same time she brings her contribution to the fashion world through this concept of hat design.
Eva Kim Heu is furthermore active in the field of furniture-, product- and interior- design, as well as photography and graphics.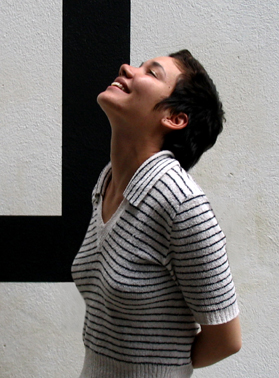 eva kim heu